Scuba diving is a fun and exciting activity, that also carries significant risks. Diving, particularly in very deep waters, can prove very dangerous or in the least very uncomfortable. One risk posed by scuba diving, that is actually very preventable, is decompression sickness. This is a form of illness that you can suffer from if you miscalculate your 'ascent' profile.
For this reason, many scuba divers opt for a personal scuba computer. This small device will measure the length of your dive, and the depth of the water you're in, in order to generate a safe ascent profile. In turn, you can avoid decompression sickness, and also be comforted throughout your dive, knowing that you can return to safety without complications.
The biggest issue surrounding scuba computers is knowing which one to buy. For this reason, we've created a comprehensive buying guide, that details the best budget dive computers on the market. Our selection includes dive computers under 500, and dive computers with GPS, compasses or other added features.
Buying A Dive Computer: What To Look For
As with any product, when buying a dive computer, there are certain signs that will denote quality. You should look for these while you're shopping around, and ensure that the computer you choose also fits your specific needs. Finding the best cheap dive computer is no easy feat. There are plenty of products available on the market, and distinguishing between the best and the worst can prove challenging.
User friendly
When buying a dive computer, you should ensure that it's user friendly. A simple, easy interface is most definitely a feature to look for. When you're diving, particularly as a novice, you need information quickly and easily. Simple interfaces will ensure that you can generate and receive any information immediately, and without confusion.
Nitrox Compatibility
When buying a budget dive computer, it's worth finding one that is Nitrox compatible. Even if you intend to dive without air, this is a worthy investment, particularly if you plan to switch to a tank in the future. Dive computers that are compatible with Nitrox can be connected to your tank, and display critical information surrounding the quality and quantity of the air you're breathing.
Many dive computers come equipped with either a GPS system or a compass. These are two very useful features to look for, particularly if you intend to dive in darker waters, or in regions that you find yourself unfamiliar with.
Scuba Dive Computer Reviews
We understand how difficult the decision to buy a scuba dive computer is. After all, you're shopping for a piece of technology that will dictate your safety. For this reason, a reliable device is a must. Below, we've outlined three budget dive computers that we find most reliable, alongside a brief detailing of their best features.
Dive Computer Review #1:  Cressi Leonardo Scuba Wrist Watch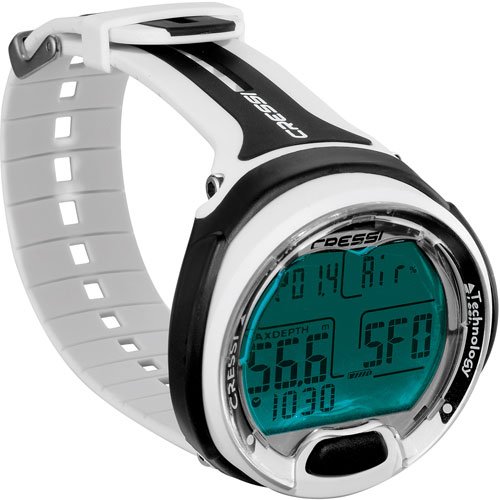 Cressi's Lenoardo Wrist watch is the height of convenience. This dive computer can be strapped to your wrist, and provide critical information, from a very conveniently designed face.
Aside from its design and shape, the Cressi computer is also very user friendly. This device provides many useful features, in a very simple interface, that will make your diving experience as easy and seamless as possible.
What We Love:
The Messi Scuba Wrist Watch is compatible with air and Nitrox tanks. This is a wonderful feature, particularly for a relatively inexpensive computer, that will allow you to vary your dives and explore new depths.
It provides a clear and simple interface, with large text, so you can glance at your computer and process information without any doubts.
The Messi Computer provides both an audio and visual alarm, alongside a stopwatch, that will remind you to ascend- so as to avoid complications.
What We Don't Love:
More petite women with thinner arms may find strapping this watch to their arm difficult. The wrist watch is relatively large, and therefore somewhat inaccessible to smaller divers.
The safety stop is displayed in minutes, not in seconds, which may prove inconvenient.
Review #2: Suunto Zoop Dive Computer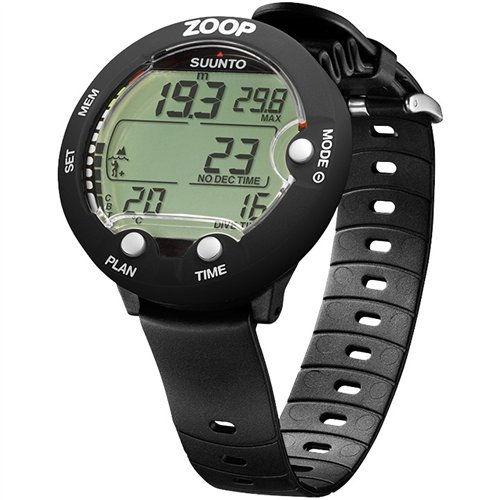 The Suunto Zoop is a popular option for entry level divers, primarily because it's the best cheap dive computer available. It poses no significant problems, but also features no complex add ons, making it an excellent option for those looking to prioritize the price of the computer above all.
What We Love:
The price. Suunto Zoop is an affordable dive computer, under $500, that doesn't lack any significant features and that ensures your total safety regardless of the cost.
It has a 50% Nitrox air view, which is unusual for a device this cheap.
The batteries can be easily changed, which is a significant advantage, particularly for divers who operate their computers on a regular basis.
What We Don't Love:
Although it features an RGBM algorithm, many users complain that this device doesn't operate as effectively with desktop and laptop computers, particularly when you're looking to download your diving profile to review at home.
The screen is prone to flickering at very deep depths, which is inconvenient at times.
Review #3: Oceanic Geo Nitrox Computer Watch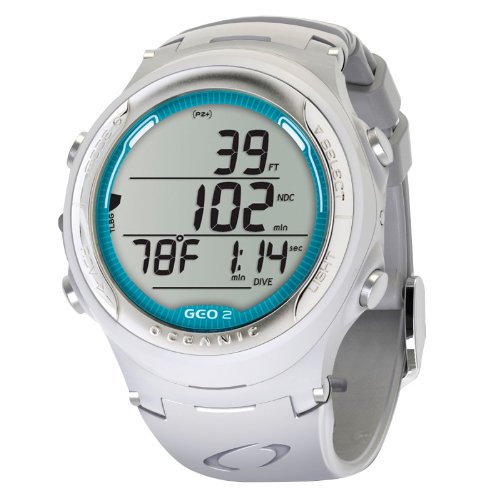 The most expensive of the three, this Oceanic Nitrox Computer is still well under $500, and provides the benefits of a high end dive computer. The Oceanic watch is compact, powerful and an excellent companion for your dives.
What We love:
The Oceanic provides four operating modes for you to choose from. You can opt for the 'Watch Function', the 'Norm Function', the 'Gauge Function' and the 'Free Function'. Each mode allows you to access critical information, quickly and easily.
This wrist watch takes more petite divers into consideration, and presents itself as a smaller computer, that is readily accessible to those with slimmer arms.
Has an aesthetically pleasing design, which is comfortable to wear and pleasant to look at.
What We Don't Love:

The instructions are brief and not very comprehensive, this makes setup a little more difficult.
You can't program your air mix into the watch, and must select it from a menu, which can prove aggravating if you're using a rare or very specific mix of air.
Budget Dive Computers: In Conclusion
The three dive computers listed above are excellent examples of cheap, high quality computers that you can buy easily online. As with any purchase, you should consider researching any finding, so as to ensure that the product you're buying meets your requirements exactly. It's also worth consulting with an expert before committing to a product, as this will guarantee that the computer matches the type of diving you'll be participating in most often.
However, as far as budget dive computers are concerned, we can't recommend the above highly enough. While no device is perfect, and they all have their downfalls, they are 3 reliable and effective computers- guaranteed to increase the safety of your dive significantly.