Scuba diving is a wondrous activity, and one that demands to be documented. However, if you have ever attempted to scuba dive with a camera in hand, then you'll appreciate just how impractical documenting this activity truly is.
GoPros were invented as a means to capture exciting activities, particularly in situations where gripping a handheld camera is simply too impractical. Innovators saw the trend and created GoPro scuba diving head mount and goggles, designed to help scuba divers wear their cameras without interfering with any equipment. This is an excellent way to capture the dark and beautiful seabed, safely and conveniently.
Buying A GoPro Head Mount: What To Look For
Although very simple by design, GoPro head mounts can vary widely in quality. When purchasing a head mount, there are certain considerations to be made, particularly in regards to you using a safe and reliable product. Below, we examine certain features that you should consider prior to you purchasing your head mount, regardless of brand or style.
Comfort
Comfort in head mounts is key, particularly in regards to the band that wraps around your head. Ideally, you should look for a product made from silicone, especially if it's a mask.  However, you should also ensure that if the strap isn't made from a material as stretchy as silicone, then it's in the least adjustable. Straps that are too tight, or that dig in, can prove uncomfortable and potentially dangerous.
Compatibility
Prior to purchasing a head mount, you should ensure that it's compatible with your GoPro camera. Seeing as there are multiple generations of camera, you may be choosing a product that is incompatible with your specific GoPro. Generally,  most head mounts are designed to function with as many models as possible in the interest of remaining marketable.
Size
Many head mounts are one size fits all. However, there are exceptions, and when choosing your mount- you should ensure that the strap is adjustable. Alternatively, you should make accurate measurements of your head and check whether they correspond with the size of the mount that you're opting to purchase.
In Review: GoPro Scuba Diving Head Mount
With so many products available to consumers, it can be difficult choosing between them, particularly if they're all well reviewed. For this reason, we've researched and detailed our three favorite head mounts. Below, we outline their respective benefits and drawbacks, in the interest of showcasing three viable options for you to consider.
OCTOMASK Diving Mask for GoPro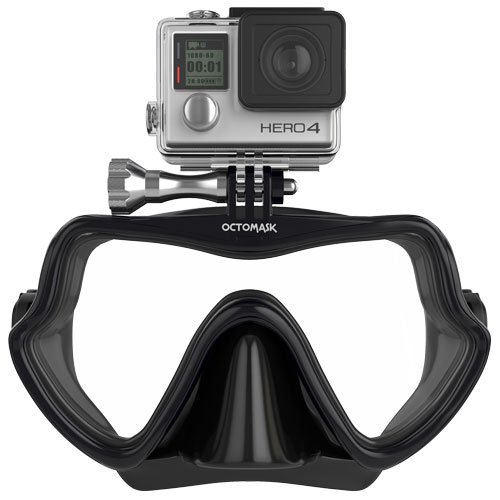 OCTOMASK offers a comfortable and convenient mask, that fits perfectly onto your face, and that allows you to mount your GoPro onto your head- without any adverse effects on your visibility.
This is a great, affordable option for those looking for a simple solution to the issue of holding a camera while scuba diving.
What We Love:

The face mask is virtually impenetrable. It's made from a thick, effective silicone that keeps all water out.
The tempered glass is of professional quality, and offers great visibility.
It's comfortable, and fits all face shapes, regardless of facial hair or other features that may interfere with other (lower quality) masks.
What We Don't Love:
There are no side view panels, which some highly skilled scuba divers rely on.
Some customers have reported that the mask fogs up, particularly at very low depths.
At times, due to the nature of the placement, bubbles appear in front of the camera.
ANGGO Anti Fog Dive Mask for GoPro Review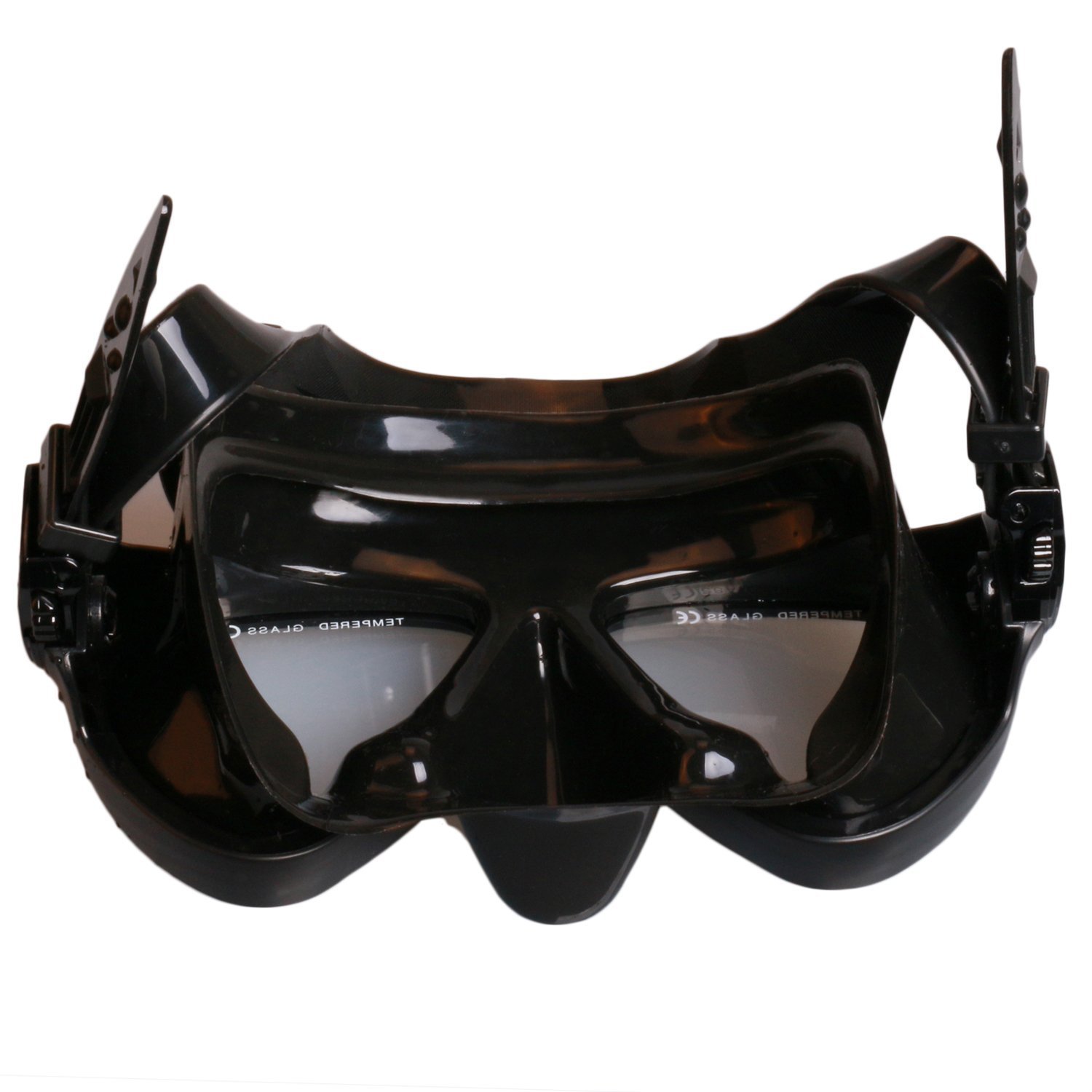 The ANGGO mask is a remarkably high quality mask, with the added bonus of featuring a GoPro head mount, at a relatively low price. The mask features a layer of anti-fog film, a set of tempered glass lenses and a durable construction made from a range of high quality silicones and plastics.
What We Love:
This is a very durable mask, that offers customers a longterm solution to their camera needs.
The anti-fog film is effective, and distinguishes this mask from competing products on the market.
The strap is adjustable and made from a soft silicone, comfortable on your face.
They are sold alongside a protective case, which is complimentary and very convenient for users.
What We Don't Love:
There are no obvious issues with this product, although some customers do note the potential for leakage.  Also, the mask is completely reliant on the adjustable strap. This is somewhat unusual, as some products are able to stick to the face without a strap.
LANYI Scuba Head Mount for GoPro Review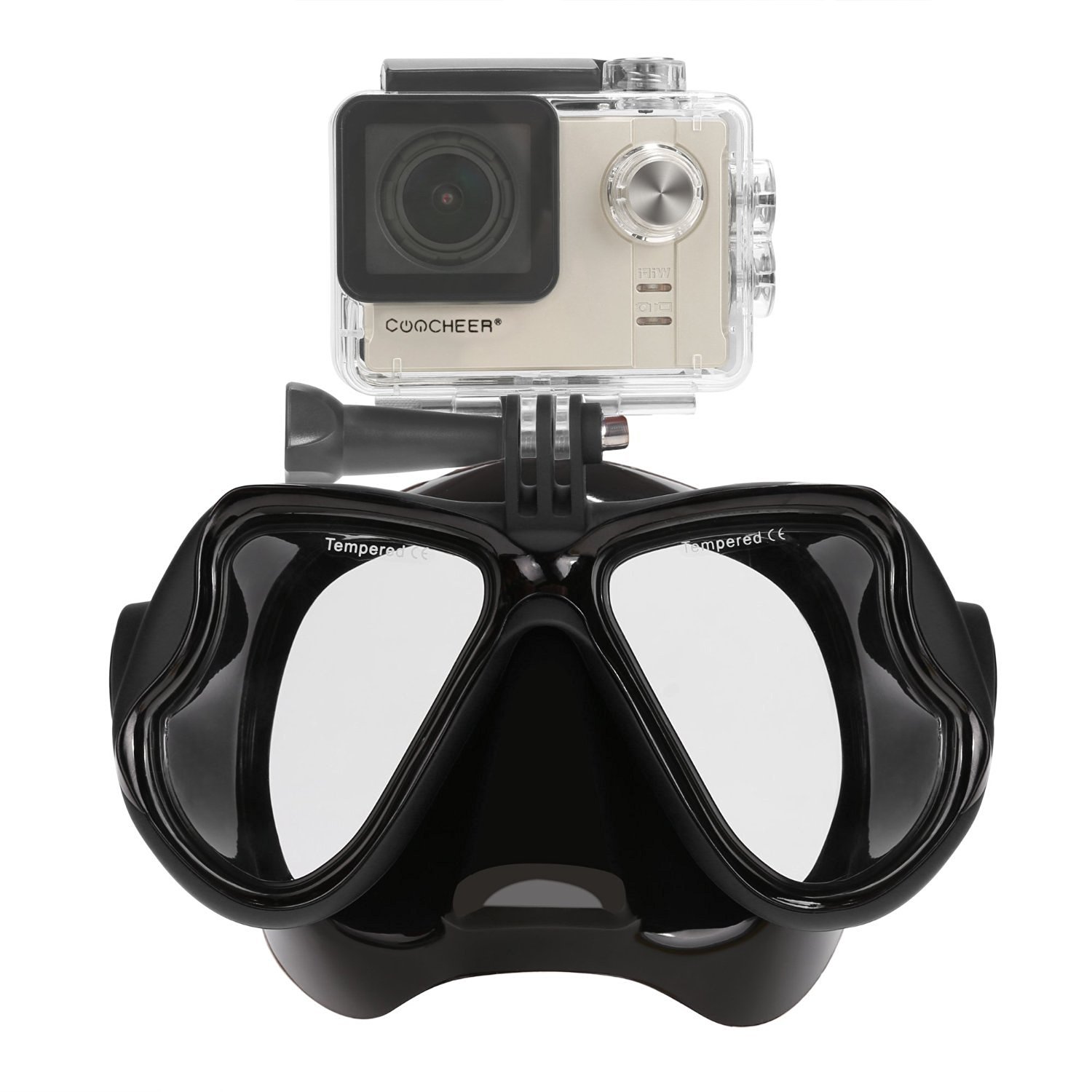 This is an excellent, high quality scuba mask created and retailed by LANYI. The mask features 4mm thick tempered glass, a silicone face skirt, and adjustable straps for comfort. This mask is also very aesthetically pleasing, and a joy to wear scuba diving, particularly during group dives. s
What We Love:
This mask is compatible with all GoPro cameras, and some similar cameras that are not made exclusively by GoPro.
The silicone face skirt moulds to the shape of your face. This makes it a very comfortable and wearable alternative, particularly for those who are irritated by tough plastic on the face.
The mount is well positioned, and captures clear images, with few bubbles or interference.
What We Don't Love:
While the silicone is very comfortable, it is, at times, prone to minor leakage. This is, however, the only potential problem you may encounter- and most customers seem very satisfied with their purchase.
Best Way To Mount A GoPro For Scuba Diving
Undoubtedly, the best way to mount a GoPro for scuba diving is by purchasing a mask designed to help you do this. Your only job is to then screw the camera and casing onto the mount. This can be done if you know how to use a screwdriver.
There is, of course, the option of you attempting to attach your GoPro to your traditional diving mask by using epoxy or other adhesive materials. This is, however, very time consuming and not guaranteed to work effectively. Therefore, we recommend that you leave this job to the professionals, and purchase a designated mount.
In Conclusion: Scuba Diving Masks With Go Pro Mount
You will find that there are many options available online when shopping for a scuba mask. With the rise of marketplaces such as Amazon- it can be difficult distinguishing between the good and the bad. As discussed above, there are certain signs to be wary of, particularly when choosing a mask. This is important as it plays a critical role in helping you see and navigate during your dives.
Attaching a GoPro to your head is a wonderful way to capture the sights and sounds of the ocean, and an excellent way to make memories. Thanks to the wonderful products listed above, this is now an option for most divers. This is great news if you wish to regularly film your excursions.