Wetsuits play an integral role in scuba diving, particularly if the diving takes place in cooler waters, or in less temperate regions of the world. Wetsuits ensure that your body is protected from the cold, and they also ensure that you are shielded from any sharp edges; poisonous wildlife and other risks posed by diving exposed.
These benefits are essential, and for this reason, most scuba diving experts would recommend that you invest in a reliable wetsuit prior to you beginning your explorations.
Buying Wetsuits Buying Guide: What To Look For
As with any form of clothing, particularly activewear designed to be worn in testing conditions, there are varying degrees of quality where wetsuits are concerned.
Depending on the materials and manufacturing techniques used by the brand that you're purchasing from- you could be choosing either a very reliable product or a potentially dangerous product. For this reason, it's important that you make certain observations before committing to a purchase.
Size
It's critical for you to ensure that the product you wish to purchase carries your size when buying a wetsuit. Wetsuits are designed to cling to your body comfortably. Buying a product that is far too large, or alternatively far too constrictive, can prove inconvenient and even painful at times.
Comfort
High end wetsuit brands will take certain precautions, and ensure that their product won't irritate you during your dives. When buying a wetsuit, you should ensure that the materials are suitable for sensitive skin; that the seams are designed to reduce irritation and that the product overall features components included for your comfort and safety.
Thermal qualities
Many scuba divers opt for wetsuits primarily to keep them warm during dives. However, many low quality wetsuits don't offer the warmth you would expect from such a product. Therefore, you should ensure that the wetsuit will insulate you- and keep you warm during your time in cooler waters.
Top Rated Scuba Wetsuits Reviews

With so many options available to you, particularly at affordable prices, it can be difficult choosing your wetsuit. We understand that this process can, at times, prove overwhelming- and have therefore carefully chosen our three favorite options.
Each of the three wetsuits featured below offer remarkably high quality for the price. They will satisfy most customers, providing they are also aware of certain (minor) disadvantages.
Best 3mm Wetsuit: Seavenger Men and Women Full Suit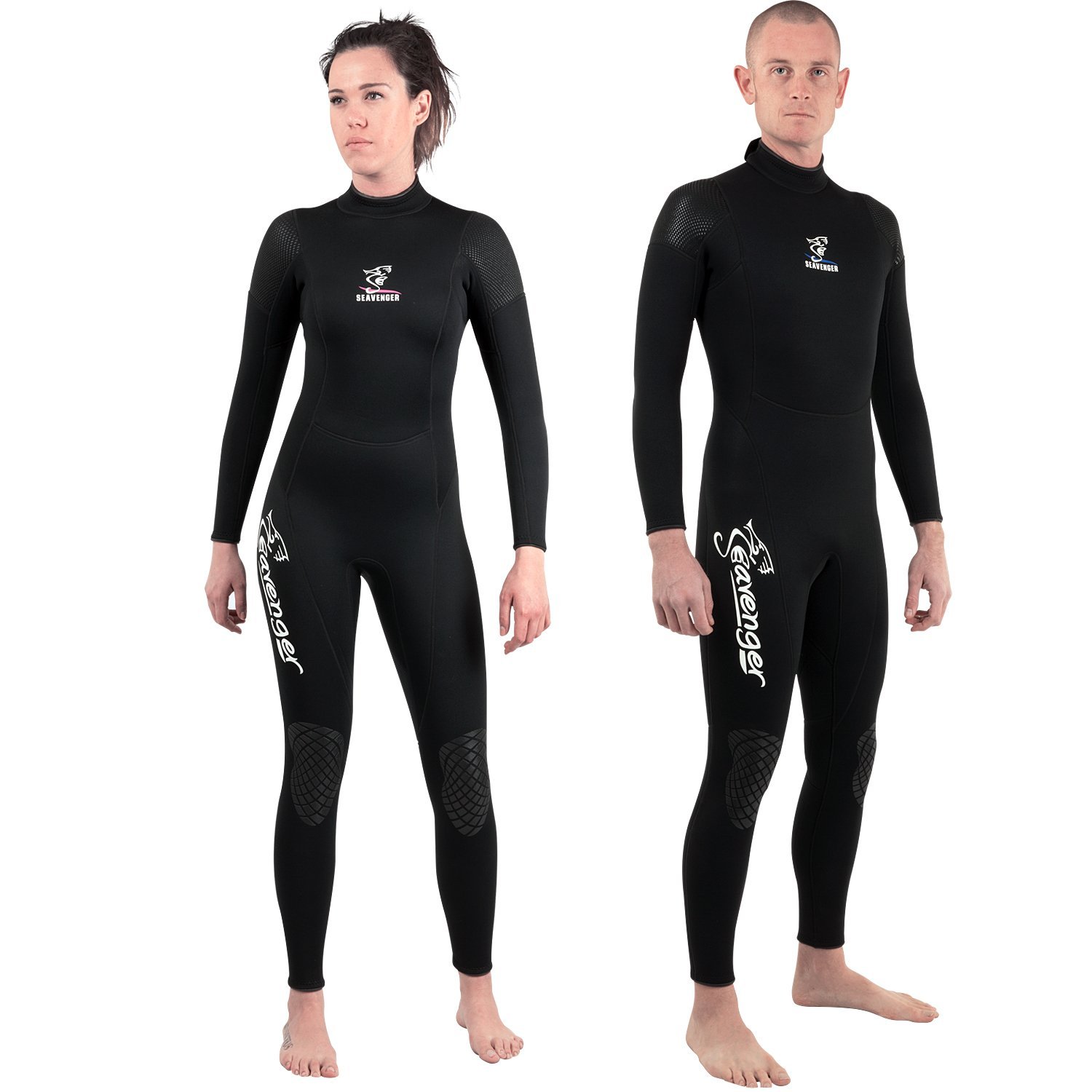 This wetsuit is retailed at under $100, which has led many users to question the quality of the product.
However, in this instance, price does not denote quality. This is a relatively low cost suit, that is very reliable, and loved by most users. It's comfortable, well sized and offers customers a comprehensive fit guide prior to purchase.
What We Love:
It features flat lock stitching throughout. This will reduce irritation and increase convenience for scuba divers.
Each suit has built in armpit and knee panels, made from stretchy fabrics, that allow for freedom of mobility and total elasticity during dives.
The sizing chart is accurate, and allows customers to pick the right fit for their weight and body shape.
What We Don't Love:
Customers occasionally fall between sizes. While customer service recommends that you opt for the larger size, this can often prove inaccurate, as the suit is is then far too large for the user.
Best 5mm Wetsuit: NeoSport Men's Premium Neoprene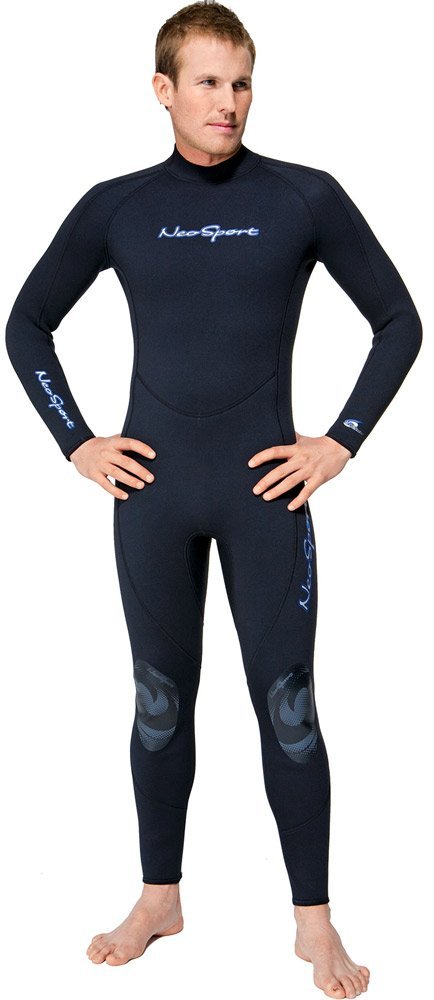 This 5mm wetsuit was designed specifically for male scuba divers, and features larger sizes, as well as increased elasticity. It's made from a high quality rubber, Neoprene, and features an adjustable velcro collar for increased safety and decreased discomfort.
What We Love:
This wetsuit is made from an impressively thick, 5mm layer of Neoprene which is certain to insulate you and keep you warm during deep dives.
The suit features flexible pads on high wear areas. This includes the knees and other joints prone to movement, and therefore general wear and tear.
The seams are reinforced, and therefore keep water out, and warmth in. This is an excellent option for those regularly diving in cooler areas.
What We Don't Love:
Considering the product is designed for men, who typically have larger bodies, the suits run relatively small. It's therefore imperative that you pay close attention to the size you're buying, and avoid choosing a product that will prove too tight.
Best 7mm Wetsuit: NeoSport 7/5mm Full Suit For Men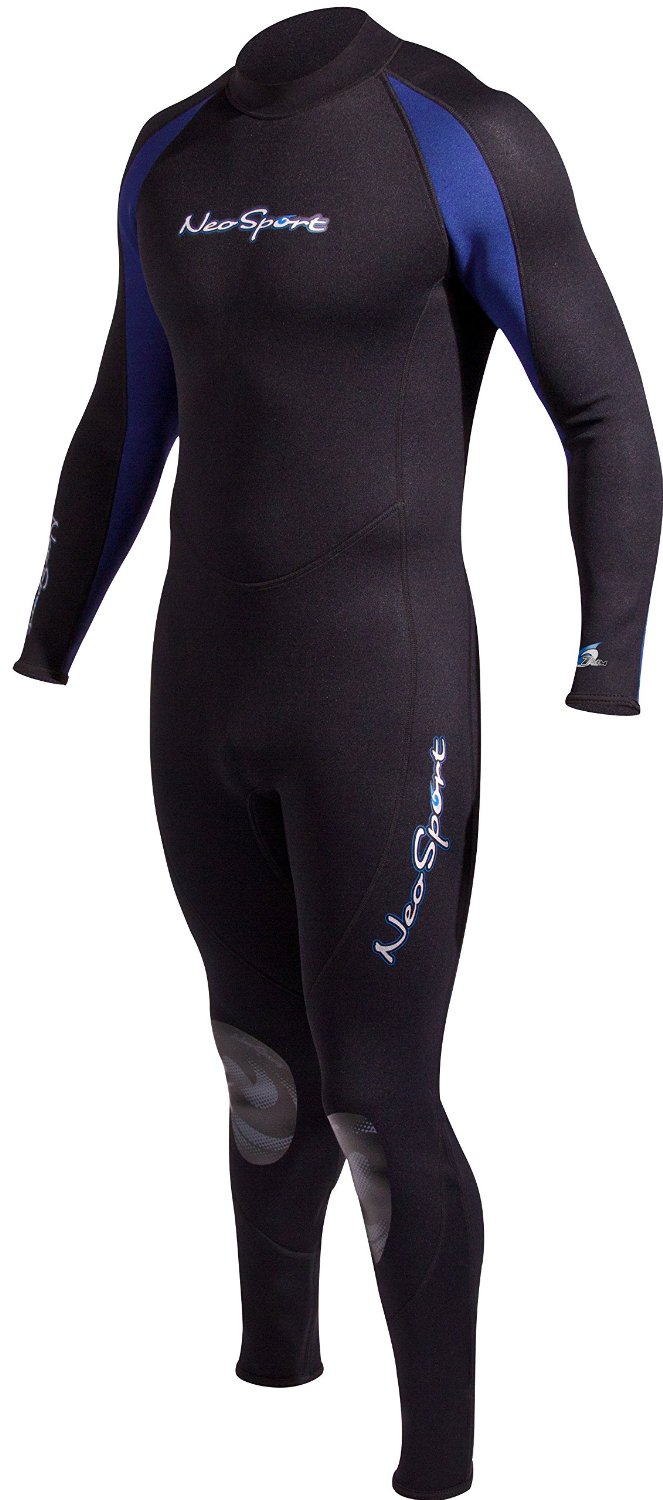 This is a remarkably thick wetsuit, designed to insulate the body, particularly in very harsh and cold conditions. The neoprene used throughout is 7mm in thickness, and is therefore also very soft and comfortable.
What We Love:
The reinforced joint areas ensure that this suit remains intact, regardless of how often you use it, or the length of dives that you choose to enjoy. The reinforcements are made from bonded pads, and are featured on the knees and elbows.
It features an adjustable collar, for comfort and reduced risk. This is great safety feature, and an excellent way to make the suit more comfortable.
Each option runs true to size, however it's critical that you choose the correct size.
What We Don't Love:
Can prove a little short on taller men, mostly due to a lack of options, so don't size down if you can't find the correct size for your body.
The velcro neck strap, while very convenient, is prone to wear and tear. After several dives, the stickiness of the velcro may lose its effectiveness.
In Conclusion: Scuba Diving Wetsuits To Consider
The above brands are examples of companies that offer high end products, designed for your comfort and wellbeing, at relatively low prices. It's essential, when scuba diving, that you opt for products that are designed for your comfort and safety- and that you focus more on quality than on total affordability.
Wetsuits were created to cling to your body, like a second skin, and if you aren't comfortable- then they can affect the quality of your dive and ruin the experience overall. Prior to purchasing a product, you should always consult the sizing guide. All of the products listed above feature comprehensive charts for you to reference, and we strongly urge you to take this step seriously, in the interest of ensuring that your dive is as fun and comfortable as possible.